Randell Young is an American guitar player, vocalist, songwriter and record producer who is perhaps best known for fronting The Dominos Presents: The History of Eric Clapton, a two-hour plus live review of the best of Eric Clapton. Arguably, the best Eric Clapton tribute act in the world today, The Dominos bring a unique approach to the tribute band genre, i.e., "British Rocker Eric Clapton used his take on American Rhythm and Blues to become the most commercially successful guitarist of all time. Comes now The Dominos, authentic American R&B players with their take on the music of Eric Clapton."
Randell Young began his professional career right out of high school playing initially in R&B clubs in his hometown of Washington, D.C. He has since gone on to work with numerous recording artists of note including: Canned Heat, Poncho Sanchez, Max Bennett, Mayuto Correa, Alphonse Mouzon, Shanica Knowles, David Garfield, Nicolette Larson, Tony Guerrero, Jeff Suttles, Billy Mitchell, John Bolivar, Mickey Champion, Rob Mullins, Nate Phillips, Dan St. Marseille, Reed Gratz, Tyrone Brunson, Melvyn "Deacon" Jones, Harvey "Harmonica Fats" Blackston, Jeff "Skunk" Baxter (of Steely Dan), Nesbert "Stix" Hooper (of The Jazz Crusaders), Jerald and Julie Harris (of Slapbak), Margot Chapman (of The Starland Vocal Band) and Rusty Cox (of The Dazz Band).
Randell Young holds an honorary doctorate in music (D.Mus.) from City University Los Angeles and has written instructional articles for such publications as Jazz Review, Guitar Review, Just Jazz Guitar, Indie Music, GuitarNoise, Six String Soul, Future Music, Music Gear Review, Guitarist, InterMusic, Galaris and Jazz Guitar magazines. His piece entitled On Soloing is still archived by FenderForum as The Best Guide to Soloing I've Ever Read!
A former member of the house band for NBC's The David Allen Grier Show, Young has also served as music director for B. B. King's Hollywood Country All-Stars (house band for B. B. King's Legend in the Making Country Star Talent Search). His composition Don't Know How To Love You is featured on MP3.com's original Best of MP3 CD and in The Complete Idiot's Guide to MP3: Music on the Internet (illustrated text with CD published by Alpha Books). He has also written and produced original music for film and television including the soundtrack for Beverly Skyline Media's Zarbie and The Martians. As a solo artist he has opened for such luminaries as Larry Carlton, Etta James, Steve Lukather, The Fabulous Thunderbirds, Leon Russell, Canned Heat and John Mayall.
Randell Young was signed directly by Artie Mogull to produce 20/20: Bob Dylan Revisited, a tribute to the prolific songwriter set to feature guest vocal performances by 20 stars originally discovered by Mogull, the late former Chairman and CEO of United Artists renowned in the music industry for having signed Bob Dylan to his first publishing contract (while an executive at Warner Brothers) and for launching the careers of such artists as The Kingston Trio, The Band, The Beach Boys, The Electric Light Orchestra, Hootie and the Blowfish, Anne Murray, Laura Nyro, Richie Havens, Crystal Gayle, Olivia Newton-John, Helen Reddy, Gordon Lightfoot, John Denver, Kenny Rogers, Deep Purple, Lynyrd Skynyrd and the iconic folk trio Peter, Paul and Mary.
Though the original vision of 20/20: Bob Dylan Revisited was derailed by Mogull's untimely and unexpected passing, the mutual respect shared by Young and Mogull had developed into a such a sincere friendship that, rather than pocket the remaining budget, Young completed the project as an homage to the man that, in the history of the music business, ranks second only to Clive Davis in terms of discovering new talent. Needless to say, Mogull never got to review the finished product; but he did hear and comment on the first five tunes: "The tracks sound terrific!" was the message Artie left on Randell's answering service. The Blues of Bobby Zimmerman (a collection of 11 Dylan tunes featuring Randell Young on guitar and vocals) and 20/20: Bob Dylan Revisited (the entire two-album project) are both in the can but remain unreleased. A sample though, All Along the Watchtower, (featuring Randell Young on lead vocals and two extended guitar solos) can be heard at All Along The Watchtower.
His live performances have generated numerous and favorable reviews from a variety of sources. Los Angeles Times music critic Bill Kohlhaase credits Young with "a tight, cosmopolitan sound". Author/columnist Alan Bock describes the guitarist as "genuinely accomplished and inventive… one of my favorite artists". KSBR's Infamous Aaron Blackwell assesses Randell Young as "a world-class blues master" while Orange County Register music critic Robert Kinsler touts Young as "a masterful blues player".
Whether as a sideman, guest artist or featured performer, Randell Young emphasizes a groove-oriented presentation with due respect for the idiom yet still manages to bring something unique to the stage. As explained by Robert Kinsler, "Just as every great guitarist from Robert Johnson and B. B. King to Alvin Lee and Stevie Ray Vaughn has performed the blues with a distinctive style, so has Randell Young taken creative strides to cut his own turf". Happening Magazine adds, "Randell Young's formula calls for a clean sound built on genuine Blues rhythms backed up with a heavy dose of Soul". No less an authority on the Los Angeles music scene than the late Laura Mae Gross, former owner and proprietor of the city's oldest blues club, Babe's and Ricky's (established 1964), frequently boasted, "Randell is the best guitar player we got".
Randell Young's most recent projects include writing, producing and recording a trilogy of concept albums (Deo Juvante, A Rising Tide and Soiree at the Café Liberte) for Libertalia, a ten-piece ensemble performing all original material which can best be described as modern American R&B music with elements of Jazz, Rock, Reggae and WorldBeat thematically aligned with the values of freedom and free enterprise, tolerance and respect for the rights of others and the dream of the creation of a new and truly free libertarian microstate, La République de Libertalia.
Pre-Release (no CDs or videos) just free tracks available at SoundCloud, Libertalia has already attracted nearly a quarter of a million facebook fans.
Ironically and presciently, Randell Young had this to say way back in a 1993 interview with the LA Times, "You know how you hear a track without a guitar and you kind of fill it in? Stevie Ray Vaughn would have played it one way. Albert King would play another way and Albert Collins would play it yet another way. I generally hear it the way Clapton would play it."
Randell Young's original arrangement and recording of Layla
Allene Lewis' interview with Randell Young
Other recordings that demonstrate why critics tout Randell Young as "a masterful blues player"…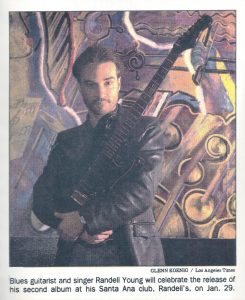 Copyright clearance for All Along the Watchtower, Gotta Serve Somebody and Layla provided by TuneCore/Tune Licensing (All Along the Watchtower ID 9286 License Number 0489-001; Gotta Serve Somebody ID 21808, License Number 0350-001; Layla ID 233522 License Number 1468828061). Sync license for Layla video provided by WATH (Account: Randell Young).